Full T&Cs
One entry per transaction over AUD 100.00. Persons can enter multiple times with separate transactions over AUD 100.00.
The winner is chosen at random using an electronic generator using their email address and names as key identifiers.
The winner will be notified firstly by Mobile Number and sent a confirmation email.
Not redeemable for cash. Not transferrable to another person.
The prize will be delivered to the closest PTC Phone Tech & Comm retail outlet for customer confirmation via identification within one month of the prize being announced.
The winner will be informed by phone on the 3rd of August 2022 and sent an email confirmation to their nominated address. Within 7 days of the announcement, if the customer has not contacted to claim the prize it will be forfeited. Another attempt to call and email reminders will be completed on the 5th of August 2022.
Copyright to the entries will remain with the entrant but the entrant licences PTC Phone Tech & Comm to use their photographs to promote the brand across websites and social media for a period of 12 months after the competition has concluded.
The winner's First names and social media handles will be shared on our social media channels for the announcement.
Giveaway promotion organised and managed by PTC Phone Tech & Comm at 2/116 Magnesium Drive, Crestmead QLD, 4132. For enquiries, contact business@ptc.net.au addressed 'To The Organiser'
Competition Valid from July 1st, 2022 to July 31st, 2022.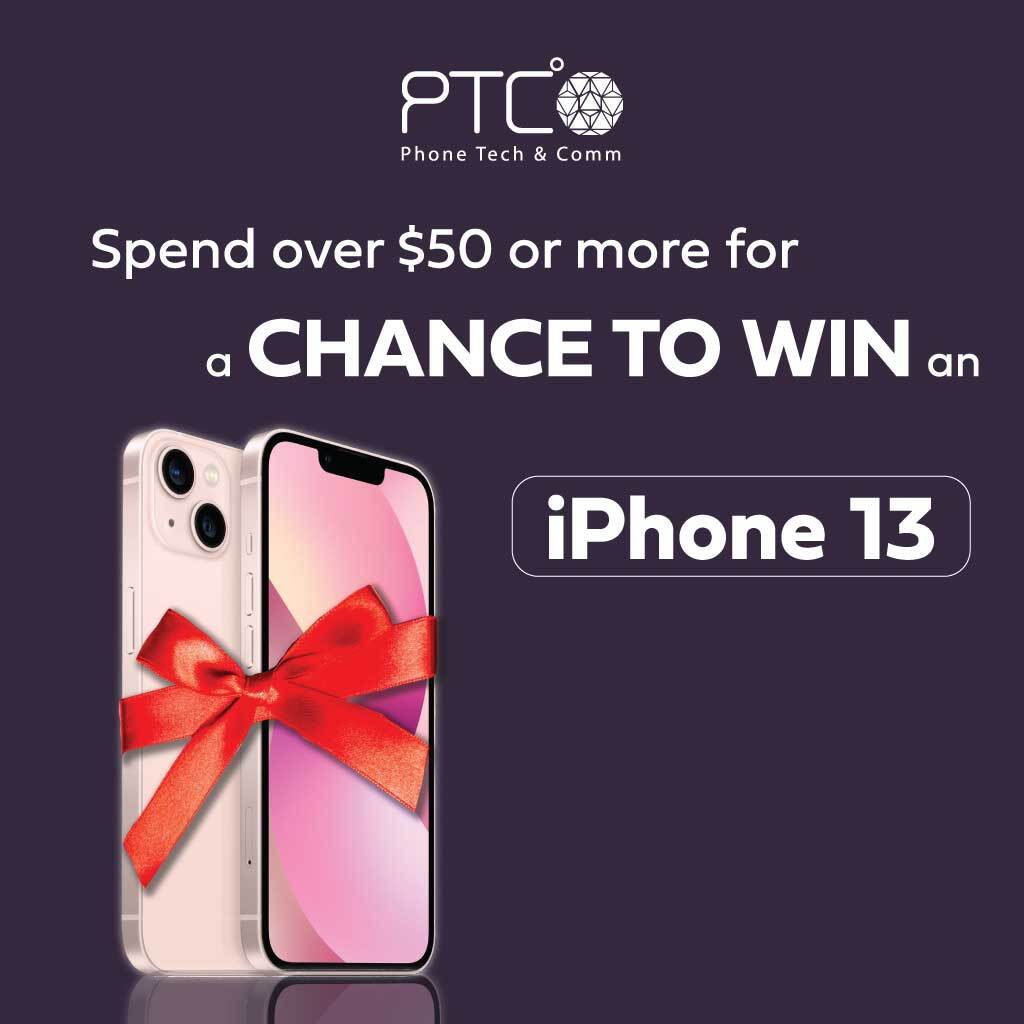 WIN an iPhone 13! - Competition Closed
To celebrate the new iPhone 13 launch in Australia, we're giving one away to a lucky PTC Club! shopper!
To enter, spend $50 or more online or in store, join PTC Club! by entering your email address and full name for automatic entry. Yes, it's that easy. T&C's Apply.


T&Cs: Open to AUS residents only aged 12+. Start date 12:00am 15th September and Closing date 11:59pm on 30th November 2021. Winner chosen at random on 3rd December 2021 and notified by phone or email. Winner must respond within 1 week of notification or prize will be forfeit and redrawn on 15th December, 2021. For a full list of Terms and Conditions, see below.
Full T&Cs
One entry per transaction over AUD 50.00. Persons can enter multiple times with separate transactions over AUD 50.00.

The winner is chosen at random using an electronic generator using their email address and names as key identifiers.

The winner will be notified firstly by Mobile Number and sent a confirmation email.

Not redeemable for cash. Not transferrable to another person.

The prize will be delivered to the closest PTC Phone Tech & Comm retail outlet for customer confirmation via identification within one month of the prize being announced.

The winner will be informed by phone on the 3rd of December 2021 and sent an email confirmation to their nominated address. Within 7 days of the announcement, if the customer has not contacted to claim the prize it will be forfeited. Another attempt to call and email reminders will be completed on the 7th of December 2021.

Copyright to the entries will remain with the entrant but the entrant licences PTC Phone Tech & Comm to use their photographs to promote the brand across websites and social media for a period of 12 months after the competition has concluded.

The winner's First names and social media handles will be shared on our social media channels for the announcement.

Giveaway promotion organised and managed by PTC Phone Tech & Comm at 10 Ironstone Road, Berrinba QLD, 4117. For enquiries, contact business@ptc.net.au addressed 'To The Organiser'